The play-learn groups are for children till the age of eight. At this moment we have six play-learn groups, two in Singaraja and four in Ubud. The children have two till three lessons in the morning per week. We have one teacher and one assistant on every group. In this situation there is enough guidance, together with the present parents, to assist the children individually. This is for example necessary when a child shows difficult behaviour and the lesson cannot continue without enough guidance.
In Ubud we have four different groups with a different level with for every group an adjusted lesson program:
In Singaraja we have two
groups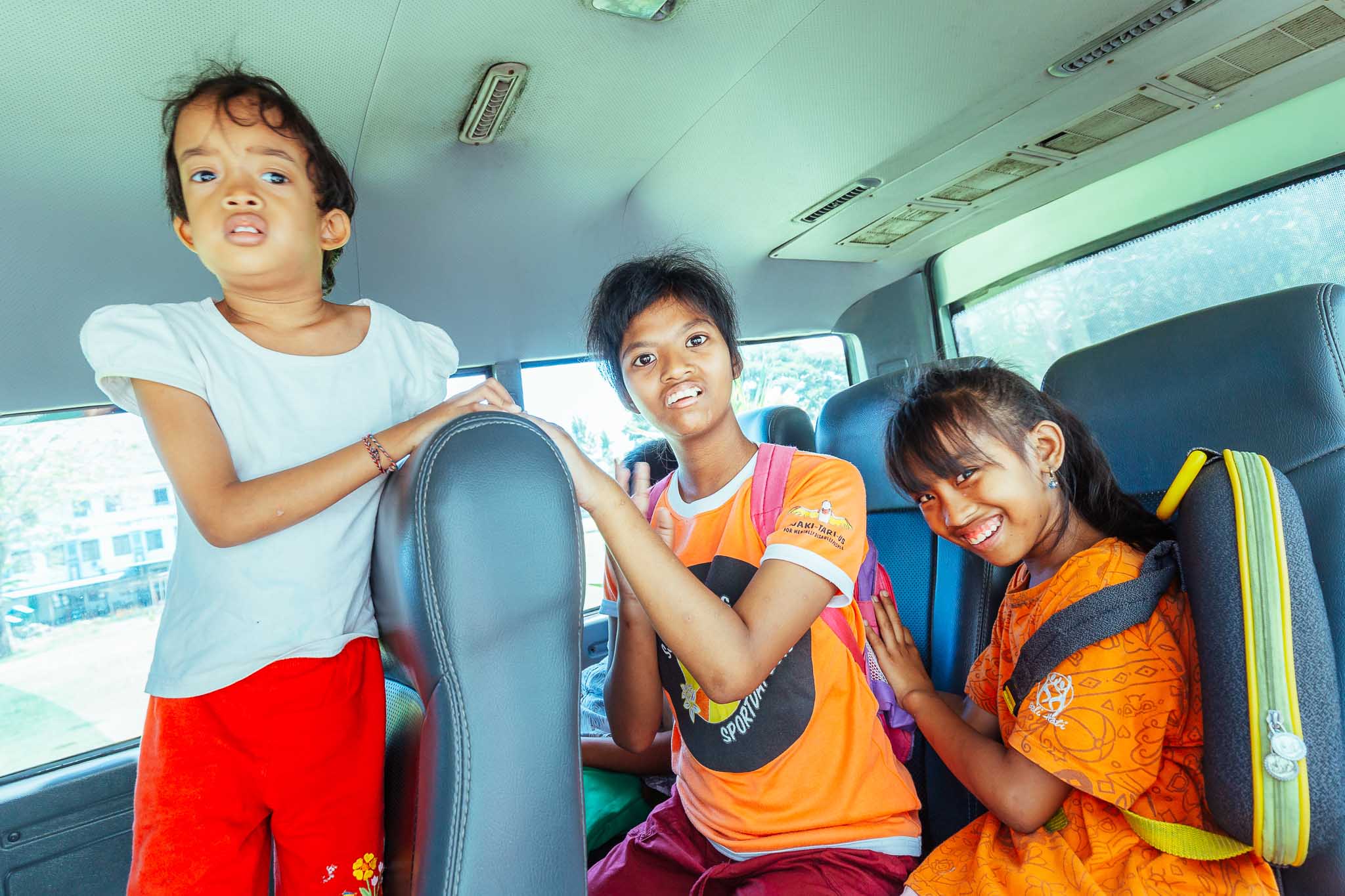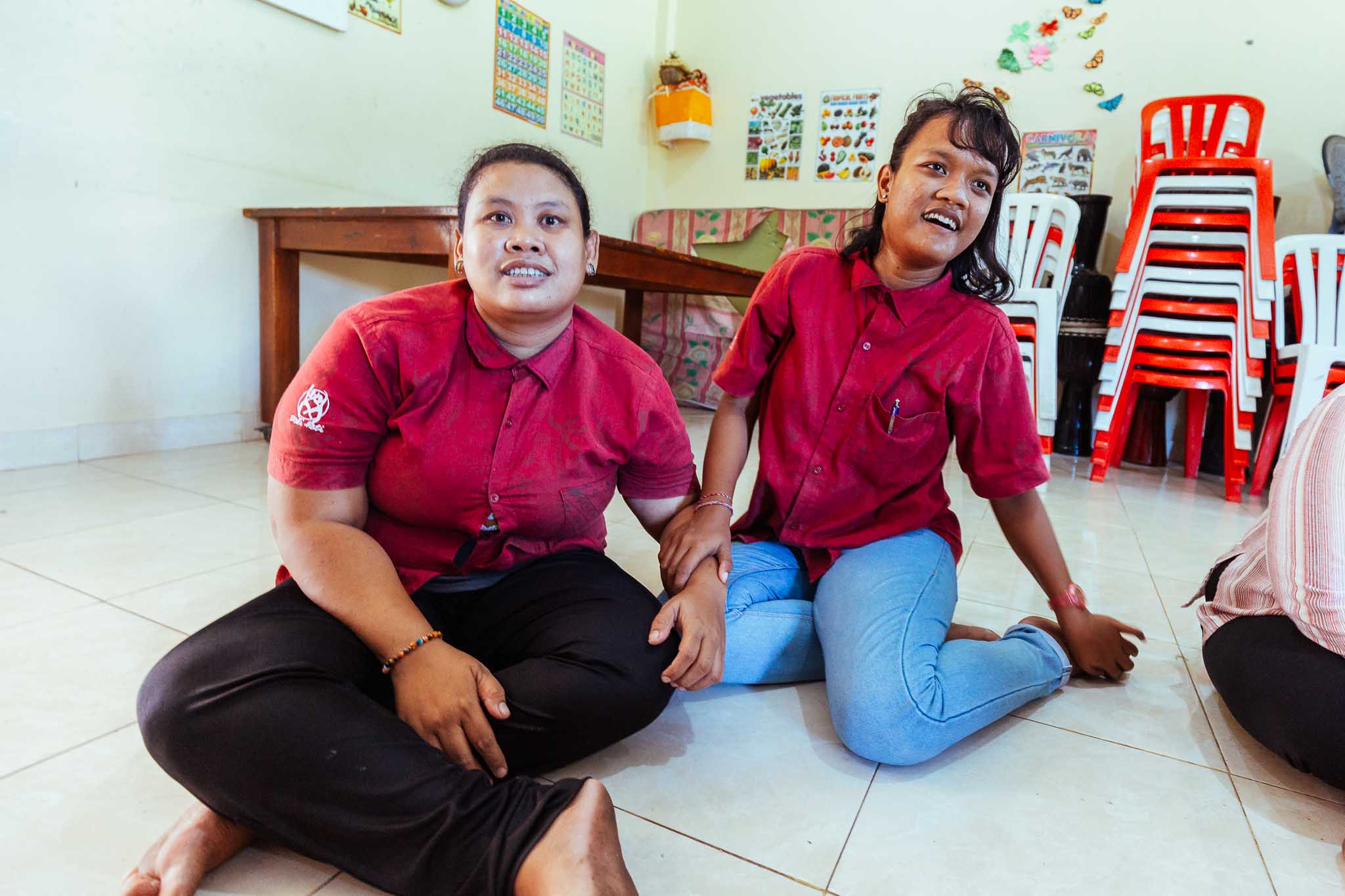 Most of the time the children come together with their parents to the play-learn groups. This is very important because we can teach the parents how to communicate and how to associate with their children in their own environment. The support and stimulation of children with a mental disability also needs to continue in their own environment and that is why it is so important to teach the parents and their environment how to do this. During the lessons the program and guidance aim at teaching parents to play and work with their child and we transpose our knowledge about other things who are relevant in their environment.
Sometimes parents do not come to the play-learn groups. In this way children can be better prepared for the SLB, in where they also have to do everything without their parents. In other cases children work better without their parents.
When children reach the age of seven years they are being considered for an examination for the SLB. In the past years a lot of 'our' children passed the exam, but also a few did not. For them we make an exception at the age limit. In the meanwhile our teachers have good relations with test psychologists. By working with them we can better know what the possibilities are of every child. We can also know on which areas more attention is needed and that helps us to develop the child more so it can pass the exam the next year.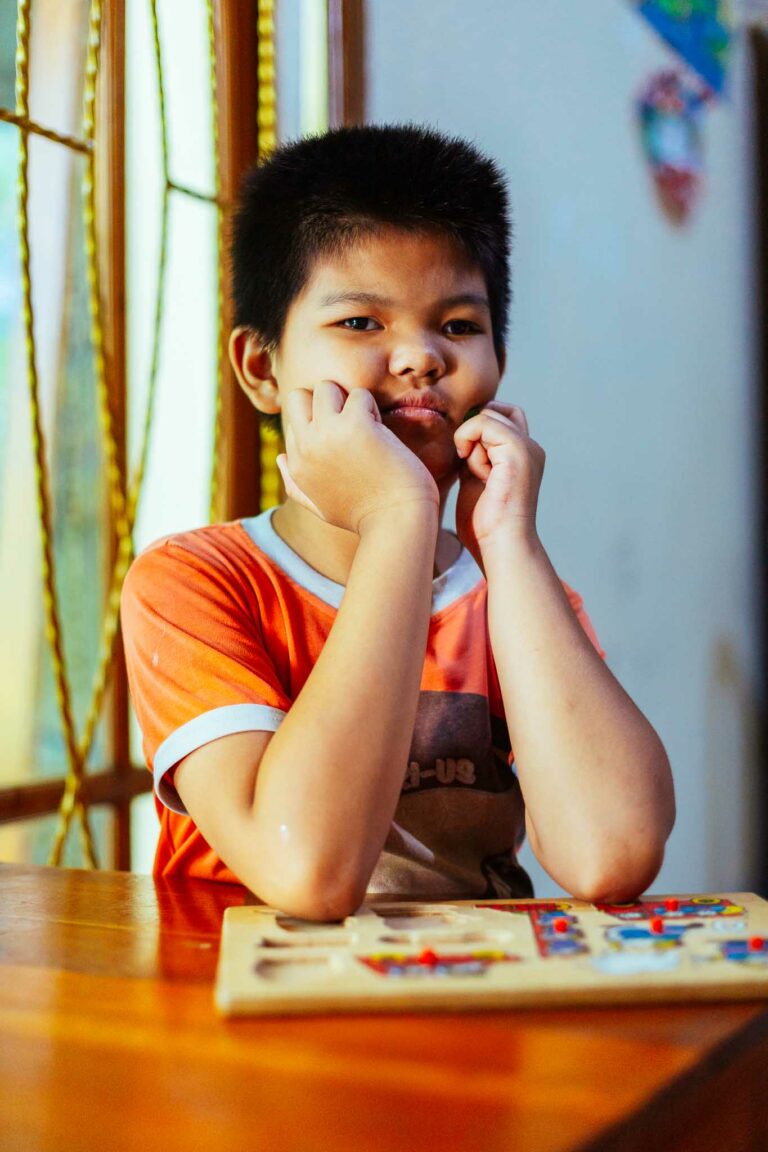 The play-learn groups have a structured program in which we use playing material, pictograms and supportive sign language with what we can work in thegroup as well individual. We try to adjust every activity to the child individually.
The program as we describe above can change sometimes with swimming lessons and/or a trip. Once a month the children have swimming lessons. In Ubud we have someone's swimming pool at disposal where our children can swim free of charge. Every now and then we organize trips with the children and their parents such as a trip to the zoo or the beach. For the children and parents it means a lot of pleasure and it is a good opportunity for the teachers, assistants and volunteers to know each other better in a fun and relaxing way.
Of all children a 'pupil caring cycle' is being kept up. In this, report of intakes, the child's personal goals and the progress in the development is being collected. On the basis of the child's development we can decide which materials we can offer in the classes and house visits. The progress and developments in behaviour will be described twice a year in a report. Not only are parent and child very proud of it, it also helps the parents to see the development of their child. The development of children with a mental disability goes by small steps, this is often hard to recognize for parents who see their child every day.
Every child is being visited at home once in three weeks by a teacher and/or assistant. The house visits are an important instrument to keep and stay in touch with the parents and to help them being active with their child at home. Besides that, a house visit offers the opportunity to illustrate the possibilities for activities in the home surrounding which can be beneficial for the child and parent.
Sometimes parents do not come to the play-learn groups. In this way children can be better prepared for the SLB, in where they also have to do everything without their parents. In other cases children work better without their parents.
Development parents and
children
A lot of parents have a disturbed relationship with their child before they come to Sjaki-Tari-Us. Because of ignorance, lack of understanding and an awkward approach of their child, the child has become more unmanageable in his/her behaviour. By learning and experiencing that a certain amount of structure, consequent reactions, clear and patient communication and feeling the needs of their child, the behaviour of parent and child will improve enormously the first six months. It also decreases the problem behaviour whereas the capacity for pleasure and development will increase. A lot of parents describe participation in the play-learn groups as very important and an improvement in their lives for not only themselves but also for their child. After the first months of big improvements in behaviour of the children and the relationship between parent and child we will see a more steady development in skills, as how every child develops, but slower and in smaller steps. For parents, who see their children every day, it is difficult to recognize these steps and that is why it is so important that our teachers write these developments in a report so the parents can see that there is indeed improvement in the development.
What participation in the play-learn groups means for these small children, we best can describe it by looking at the feedback we have received from teachers of the SLB in Singaraja. They noticed that 'our' children have a clear start in their concentration, working attitude and social behaviour if you compare it to children with the same age and mental disability.