When children with a mental disability graduate from school, or if they, through circumstances, did not go to school, there is no other opportunity for them then staying at their family at home. At the SLB there is a form of activity group but they can only participate in this group for three years, after this there is really nothing more to do. To offer young adults a place where they can do all sorts of activities and learn practical skills we have started a young adult group.
For learning skills we work with a methods plan where we teach everything step by step. The first step is giving examples and explanations, the second step is doing it together. The teenagers practices their skills or task together with a teacher. By the third step they get a manual that we discuss together with the teenager and that the teenagers can practise it again. The fourth and final step is doing the task by themselves (with or without manual*)
At the moment this group consists of eight young adults, who are following a four day program. This program contains, besides a regular lesson program with mathematics, reading and writing, of the following parts: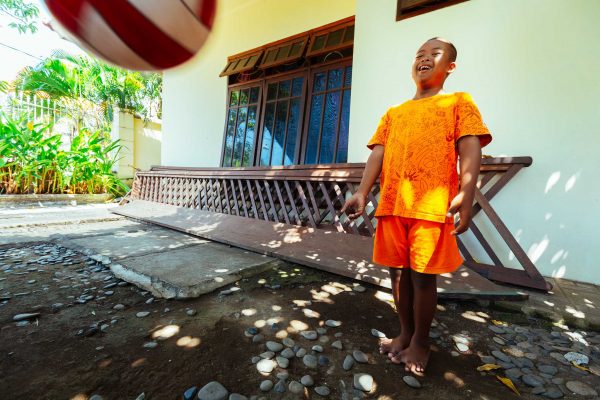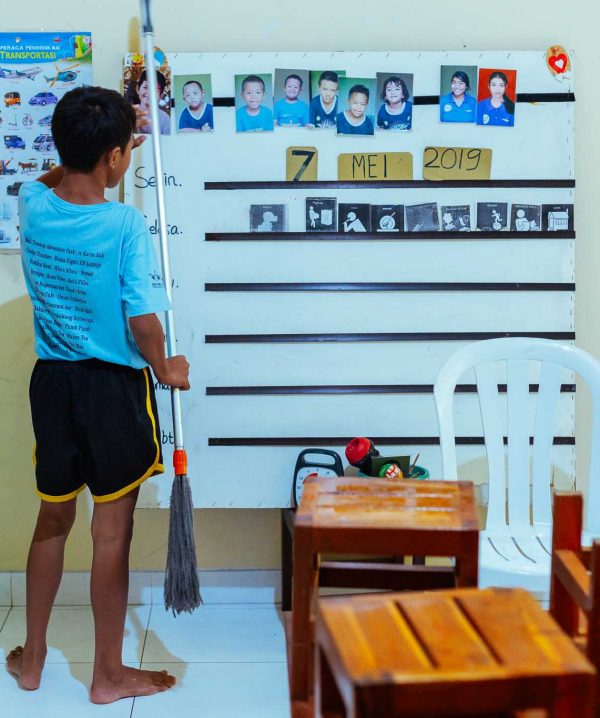 Our goal is, looking at the possibilities and interests of the young adults, to expand our activities to real jobs in which the young adults can earn their own salary in the future. At this moment we already have a few teenagers who work in our warung. They have fixed shifts in a week where they help as a waiter. Proudly they walk with plates and do the dishes. During their training they learn social and practical skills which helps them to work our warung or to work in another restaurant or warung in the future.
This group has a very special bond. Besides classmates they really become true friends. They help and stimulate each other in a very positive way.
"The manual consists of a few papers with texts and photo's, to help the teenagers to divide a bigger skill/task in small and clear steps."
Activities with the
visitors
With the focus on teaching our teenagers social skills, for an extra income and increasing our name recognition, we created the possibility to involve visitors with the teenager activities. In advance, an reservation can be made and the tourists can experience an afternoon with our teenagers and their counsellors. You can think of painting masks, making kites or sports and games. It is also fun for older children.